8079 Aluminum Foil for Packaging
Temper: O,H14,H16,H18,H19,H22,H24,H26,H28
Application: food packaging, pharmaceutical packaging, battery soft packaging, cigarette inner packaging, etc.
What is 8079 aluminum foil
8079 aluminium foil is with high content of iron and silicon. It has high strength, good elongation and stretchability. 8079 aluminum foil not only has the advantages of moisture resistance, air tightness, shading, abrasion resistance, fragrance preservation, etc., but also because of its elegant silver-white luster, it is much favored by many customers.
It is widely used in food packaging, pharmaceutical packaging, battery soft packaging, cigarette inner packaging, tube, power capacitor, insulation material, flexible packaging.
Specification
| | |
| --- | --- |
| Alloy | 8079 |
| Temper | F,O,H14,H16,H18,H19,H22,H24,H26,H28 |
| Thickness(mm) | 0.006-0.2 |
| Width(mm) | 100-1700 |
| Application | food packaging, pharmaceutical packaging, battery soft packaging, cigarette inner packaging, etc. |
Chemical composition
Alloy

Al

Fe

Si

Cu

Zn

Other

(each)

Other

(total)

8079

98.1

0.70-1.3

0.05-0.3

0.05

0.1

0.05

0.15
Mechanical properties
Alloy

Temper

Density

Tensile strength(Mpa)

Elongation

%

Pinholes(per m2)

8079

O

2.72 g/cm3

50-100

>1.0

Max 100
Features
1. It has passed many tests such as bacteria and mold. It is non-toxic, tasteless, safe and hygienic.
2. 8079 aluminum foil has extremely high moisture resistance, gas barrier properties and odor retention, which can effectively protect the packaged materials.
3. The shape is stable at high temperature and low temperature, and the temperature does not expand or shrink when the temperature is -73~371°C.
4. It has excellent electrical conductivity and shading.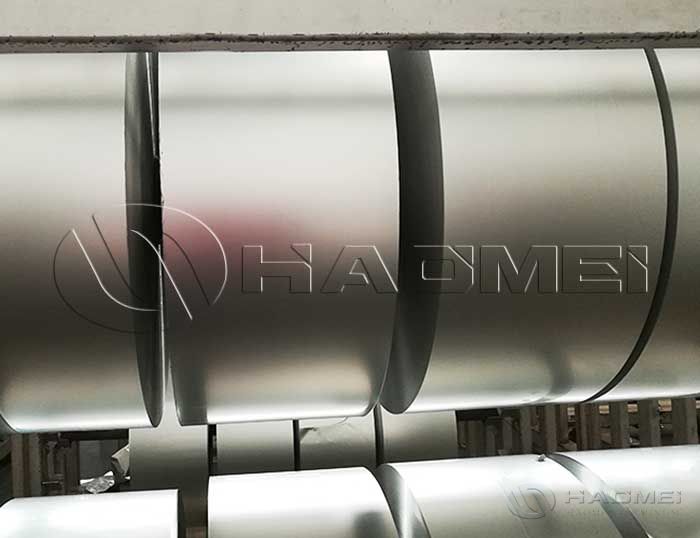 Applications
1. Yogurt sealing: It is generally made of high-barrier materials to extend the shelf life of the product. Aluminum foil is of softness and good ductility and has excellent sealing and barrier properties. Almost all products that strictly require opaque and high barrier properties are packaged with aluminum foil.
8079 aluminum foil for food packaging is a commonly used yogurt cup sealing material, and it is used in combination with other materials to have better barrier properties.
2. The soft-pack battery is structurally packaged with aluminum foil. In the event of a safety hazard, the soft-pack battery will only bulge and crack, instead of exploding like the steel-shell and aluminum-shell batteries. The strength of 8079 aluminum foil for battery soft packaging material can reach 90-110Mpa and the extension is 13%-18%.
3. Aluminum foil for pharmaceutical packaging has good strength, good sealing effect, light blocking, moisture-proof, and good heat insulation performance, and aluminum itself is non-toxic and non-adsorbing, which can effectively prevent various bacterial infections.
It is widely used in PTP pharmaceutical aluminum foil, cold-formed drug foil, blister packaging, medical bottle caps,etc.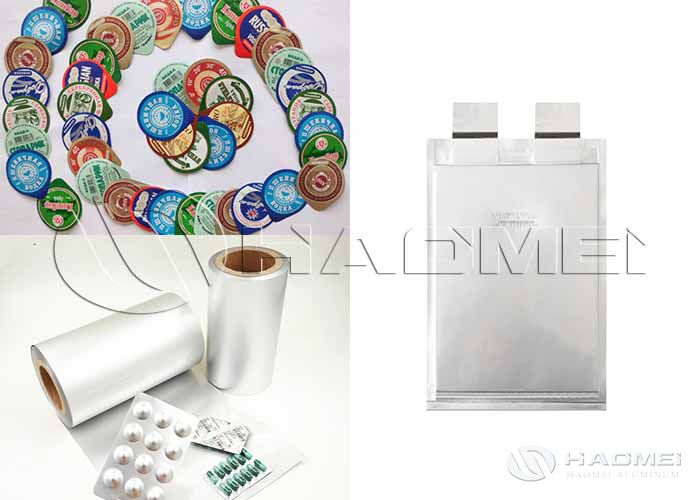 Where to buy 8079 aluminum foil
1. The price is reflected in the quality. With a reasonable price, Haomei 8079 aluminum foil paper is of flat shape and smooth surface.
2. There are many aluminum foil factories. Those with rich experience and large capacity can ensure stable quality for you.
3. Production cost. The production cost will directly affect 8079 aluminum foil price. With mature processing technology and advanced equipment, we can control the production cost at a very low level.
Why to choose Haomei Aluminum
Haomei Aluminum has currently has 9 coating production lines, which can produce various specifications of hydrophilic aluminum foil with a thickness of 0.08~0.2mm and a width of 150~1400mm.
The coating production line currently has 3 sets of 1600mm wide coating machines, 6 sets of 1350 mm wide coating machines, 5 sets of slitting machines and 1 oiling machine. We can provide 1100, 3102, 8006, 8011 and other alloys.